Wow! Lynn and I spent almost two weeks in South Africa with our friends Joe & Mary Studlick, their adorable daughter Liz who is an economics major at Brown, and Tim & Diane Trautman. Joe, our travel director, booked most of the trip through Micato Safaris and those guys did a fantastic job. Here's how the trip went for us…
Lynn and I left on New Year's Eve (hey the price was right for business class) and after about 30 hours travel, including a long, long layover in Frankfurt where the Lufthansa lounge was absolutely dead, we arrived in Johannesburg (Joberg) to be met as we stepped off the plane by a young man who guided us through customs and collecting our baggage. He turned us over to 3 gentlemen from Micato who grabbed our bags and hustled us off to a car to take us to the Saxon Hotel.
The Saxon was at one time a private residence sitting on 40 acres in a very wealthy area of Joberg. Lynn and I arrived the day before the rest of our group and were able to lounge around the hotel, check out the art work and grounds, and really enjoy this spacious room. With Joe as tour director we had a Tours By Locals tour scheduled for the next day. Never a dull moment with Joe. The highlight of the tour was seeing Nelson Mandela's tiny 3 room home complete with bullet holes in Soweto and lunch at Wandie's Place. Everybody goes to Wandie's and the food and entertainment was great.
Early Sunday morning Alan Peterson from Micato, who would remain with us for the safari days, ro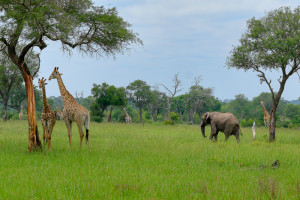 unded us up and we were off to the Joberg airport for the 60 minute flight to the airstrip at Sabi Sabi, our first safari stop. On the short drive in an open Land Rover to Bush Lodge where we were staying, we came upon a dozen giraffes and a lone elephant lazily grazing next to the road in a big open area. Less than an hour in the park and we've already checked one of the Big 5 off our list, the Big 5 being the African elephant, African lion, African leopard, Cape buffalo, and White/Black rhinoceros. This was one of the highlights for me – seeing these guys right of the bat, the giraffe on the left with a crooked neck, the lone elephant lumbering along, the open grassland. We're actually here. There's wild animals. It's up close and personal. I may actually have the right camera gear to get some pictures.
So that's the start of our trip. Check back tomorrow or whenever you have a chance and see the continuation of the trip. I'll be posting photos in a gallery (when I remember how) and hope you will enjoy them as much as I enjoyed taking them.