Journey to Puglia
Lynn and I traveled to Italy with our friends Joe and Mary in September of 2017. After a night out in Rome we met up with our Italian friends and tour guides, Stefania and Orazio of Casa Stefazio fame. They planned and accompanied us for a journey around the Puglia region. We were treated to so much good food – too much really. And we drank our fair share of wine as well. There were so many wonderful overnight stays in places we would never have found on our own. Our stay was for 2 weeks but it wasn't long enough.
The Ulivi Secolari
The highlight of the trip for me was the olive trees in Puglia. The "Boot Heel" of Italy is home to 50 to 60 million olive trees grown on over 1,000,000 acres (+1500 square miles). Olive oil production in the area is on the order of 300,000 tons per year and represents 40% of total Italian production. You might think that alone would supply all the country's needs, but they are still a net importer of ~500,000 tons a year. That'll lubricate a lot of pasta.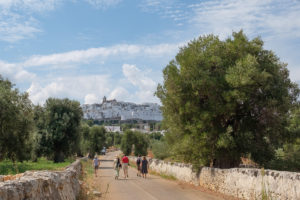 Stefania surprised us with a visit to an olive farm outside Ostuni. There were hundreds of massive olive trees. These are the ulivi secolari, the centuries-old olive trees. Carbon dating has shown some of these trees to be well over 1,000 years old. I could have spent days wandering around photographing these magnificent trees. To me it wasn't landscape photography but portraiture.
These older trees are immense and easily 20′-30′ or more in circumference. Many of them are hollow and the four of us could easily fit inside one. They have such character, like a wizened old man similar to me. Just imagine what they've seen over the centuries. From the beginnings of christianity to the present. Simply amazing! Today many of them are individually registered and protected by law.
A Crisis in Puglia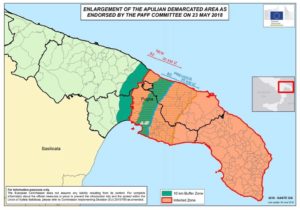 These trees are unfortunately in great peril. Puglia is the northern boundary of a deadly plant pathogen, Xylella fastidiosa. There are multiple carriers of this bacteria and, in this case, it's being spread by spittlebugs. The pathogen, thought to have originated in the Americas, was first seen in the region in 2013. Since then it has infected trees not only in Puglia but it is also threatening the entire Mediterranean region and Europe. Outbreaks were reported in France in 2015 and in Spain in 2016.
Similar to the blockage of the arteries to the heart, this pathogen blocks the passage of water through the xylem or vascular system of the tree. Although symptoms may not appear for a year or more, by then it's too late. Desiccation causes leaves to wither and fruit production to decline.
Early studies suggested no cure other than the elimination of the infected plant. As a consequence, the European Union authorities instituted a no tolerance policy in 2013. As a result, any infected tree is required to be pulled up and burned. Additionally, any tree within 100 meters of an infected tree is to be destroyed as well. The latest estimate is that Puglia could lose 11 million trees.
The Path Forward
Recent studies have indicated that the bacteria spreads from the site of the infection rather than from the roots as originally thought. This would indicate that extensive pruning could be an alternative to total destruction. Scientists have also identified tree species that are resistant to infection which may save those species from destruction.
As you can imagine, the farmers are devastated. Generations of their families have tended these farms and owe their livelihood to these trees.
The European Union is funding numerous studies but it's unclear if there is a solution to this deadly peril. Hopefully these ancient observers of man will last long into the future, but they still have to survive a changing climate.