Morning comes early in the bush and today promises to be a long day. We have a wake-up call for 4:30am to get ready for the morning game drive but we're both tossing and turning way before the call comes. First things first – check the cameras, spare batter
ies are charged, clean the lenses, put on the bug spray. Did I mention that we're taking malaria medication and spraying on bug repellant? I got bug repellant clothing from ExOfficio at REI for the trip but the best news was that the mosquitoes were not bad at all during our time in the bush. And the deet lotion we used didn't smell bad at all.We have time to grab coffee or tea and a croissant or donut before we're following Jabu and his cannon out to the Land Rover. The sun's just coming up when we leave and chilly even though it's summer in the southern hemisphere.
Now yesterday is going to be hard to beat – our Big 5 count is up to three and our expectations are high as Joe continually reminds Jabu and Jack. Tim wants to see a honey badger after all.
Literally 15 minutes after leaving Bush Lodge we come upon a dozen or so zebras grazing in the company of wildebeest. The wildebeest (what's the plural of that?) were not very cooperative and seemed reluctant to get their picture taken.
We spent half an hour watching these guys before moving on and getting the first real scare of the trip. Believe it or not there's a huge elephant hiding behind this bush.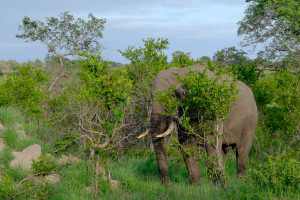 He leapt out from behind the bush just as nimble as a ballerina and started flapping those big ears. Too funny for my own good. Took a lot of pictures of those flapping ears – they use them to radiate heat from their bodies and they're just continually in motion. Seen from behind they have giant veins to cool down their blood. They also generate a pretty good breeze too.
After he got tired of watching us we drove on down the road looking for a new adventure. Crossing the road right in front of us was a pack of Painted Dogs chasing an
impala, otherwise known as the Big Mac of the bush. We saw thousands of them on the trip and you'll see a picture of one in a later post. We watched as the dogs split up trying to surround this small impala but he was a lucky one today. Those of us in the trucks are getting a good bouncing around as we leave the road and chase after the dogs in the bush. Great fun. Just like a carnival ride. More on this later.
Eventually the dogs gave up and very politely came back to the road to take a breather and give us a photo opportunity.
The Painted Dog or African Wild Dog is one of the most endangered species on the African continent with only 6000 or so left so to see them is fairly rare. The big populations are in Zimbabwe and only a couple of hundred hang out around Krueger Park.
One of the things I haven't mentioned before is that Sabi Sands is one of a dozen or so private game reserves on the west side of Krueger Park and are inside the fence that surrounds the park. And within Sabi Sands are smaller reserves like Sabi Sabi where we are staying. These reserves are defined primarily by roads and in one case we saw what you could call a divided dirt road. There were stone or metal boundary markers every hundred yards or so but there was a dirt road about 20 yards on either side of the boundary. The rangers were very clear that you didn't cross these boundaries not even to turn around. The good news is that the rangers from the different reserves are continually talking with each other and that was how we found out that the dogs had crossed over into Sabi Sabi from an adjacent reserve.
After a stop for coffee and tea in the bush we headed back to camp for breakfast and to prepare for our midday activity that Joe had planned for us. Oh, on the way back we saw monkeys, a warthog, an elephant, and a couple of baboons.