Friday dawned crisp a
nd clear with a beautiful orange sunrise and waning moon. We're on the road at 5:30am and see a lone Cape Buffalo with his own private mud bath. He's not particularly happy to see us and moves off fairly quickly. On down the road we saw some little ferret type creatures and some zebras with Big Macs.
Just down the road, although at the speed Darren was driving it might be a couple of miles, we see our first cheetah! He's feasting o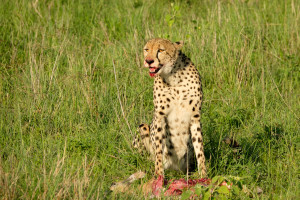 n an impala and it's quite a sight. He's out in the open and keeping a close lookout for intruders. He looks left, right, straight ahead, and then he's down for another bite. We're with this guy for 30 minutes (and I've shot 300 pics) before he decides it's too scary out in the open and picks up his breakfast and moves into the bush, but he's still watching for predators. Right, left, straight ahead, left, right, straight ahead again. Always looking for trouble. All together I get about 500 pics of this cheetah before we move on. It's fascinating – he's looking for predators but totally ignoring us.
The rest of the morning, game-wise, is uneventful. I didn't mention it earlier but for the last two days Foster has been out with another tracker looki
ng for leopards. They're unarmed and on foot. Eh, no big deal I guess.
Darren tells us something special has been found and we're driving like crazy to get there. What a surprise! Breakfast in the bush. Our chef at Tintswalo has made us omelets to order. In a creek bed, in the shade, ingredients cooked on an open fire. Orange juice, champagne, omelets – what could top this? This is one of those once in a lifetime moments. A Texas boy who never left the state before age 40 eating breakfast in a dry creek in South Africa.