We're on the road for almost an hour this afternoon before we see 2 cheetahs sneaking up on a big herd of impalas.
At this point we're between them and the dinner they've imagined themselves having shortly. Unfortunately for them there's a small herd of zebras who aren't going to let these bullies beat up their friends. The two cheetahs move up slowly passing us in the trucks and the zebras separate from the impala herd moving toward these bad boys. The guys in the striped suits are having none of it and look like they're about to throw a flag when the cheetahs hit the ground.
Want to see a cheetah look nonchalant? Check out the slideshow. These guys are like "What us? We're not doing nothing. We're just checking out the landscape. See I'm not even looking in that direction".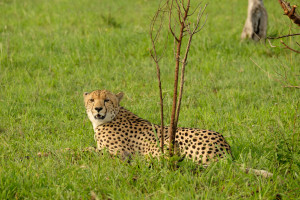 We watched this stalemate for almost an hour and once the cheetah sat down they never moved. But they were wary. Just like the cheetah this morning they were looking around to make sure no one snuck up on them.
Moving on we stumbled on a huge herd of several hundred Cape Buffalo. There were old bulls with horns that almost circled
around on themselves and young calves whose horns made them look like something out of a horror movie. They were steadily moving away from us and each new group coming by would check us out so I've got lots of pictures of Cape Buffalo. If you need one for your wall just drop me a note.